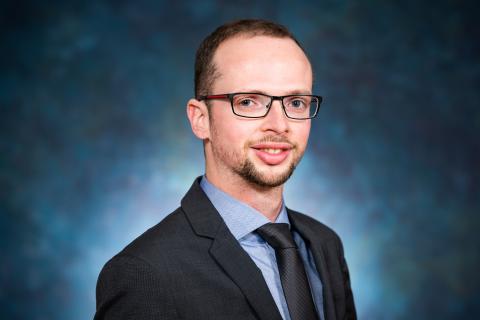 Armin Langer was born in Munich, Germany, and grew up in Vienna, Austria, and Sopron, Hungary. He studied sociology, philosophy and Jewish studies in Berlin, Budapest, Jerusalem, Potsdam and Washington, D.C., and graduated with two B.A.s, an M.A. and a Ph.D.
Armin returned to his ancestors' traditions in his late teenage years, coming from a secular Hungarian-Jewish family that lost many members in the Holocaust. He became first involved in Budapest's Jewish community. After studying at the Conservative Yeshiva in Jerusalem, Armin began rabbinical studies in Berlin in 2013. Since his first rabbinic internships, he has taught classes and led prayer in various Reconstructionist, Reform, Conservative, Orthodox and unaffiliated communities across Europe, the United States and Mexico.
Armin's understanding of Judaism has been heavily influenced by Mordecai Kaplan's thought, which eventually made him relocate to Philadelphia and study at RRC. While at RRC, Armin researched Jewish ethical responses to the coronavirus pandemic and racial justice at the Center for Jewish Ethics. He had the privilege to serve as the spiritual leader of Am Haskalah, the Lehigh Valley's Reconstructionist Congregation, as an educator at Congregation Beth Am in San Antonio, Texas, and as the instructor of Reconstructing Judaism's adult-education course "Through a Reconstructionist Lens."
As a rabbi, Armin wants to emphasize education, especially adult education, and the inclusion of marginalized communities within the Jewish community and greater society. He hopes to share the richness of Jewish civilization with communities across the globe and participate in further critical and constructive discussions on the past, present and future of the Jewish people. He is grateful for Rabbi Katalin Kelemen, who first encouraged him to pursue rabbinical studies; and Rabbis Rebecca Lillian and Nancy Fuchs Kreimer, who supported him in following this path at RRC.
---
God created human in their image.
Genesis 1:27
God did not, as the Bible says, create human in their image; on the contrary […], human created God in their image."
Ludwig Feuerbach, Lectures on the Essence of Religion (1851)
Science does not destroy the belief in miracle. It merely transfers that belief from the supernatural to the natural.
Mordecai Kaplan, Random Thoughts (1949)