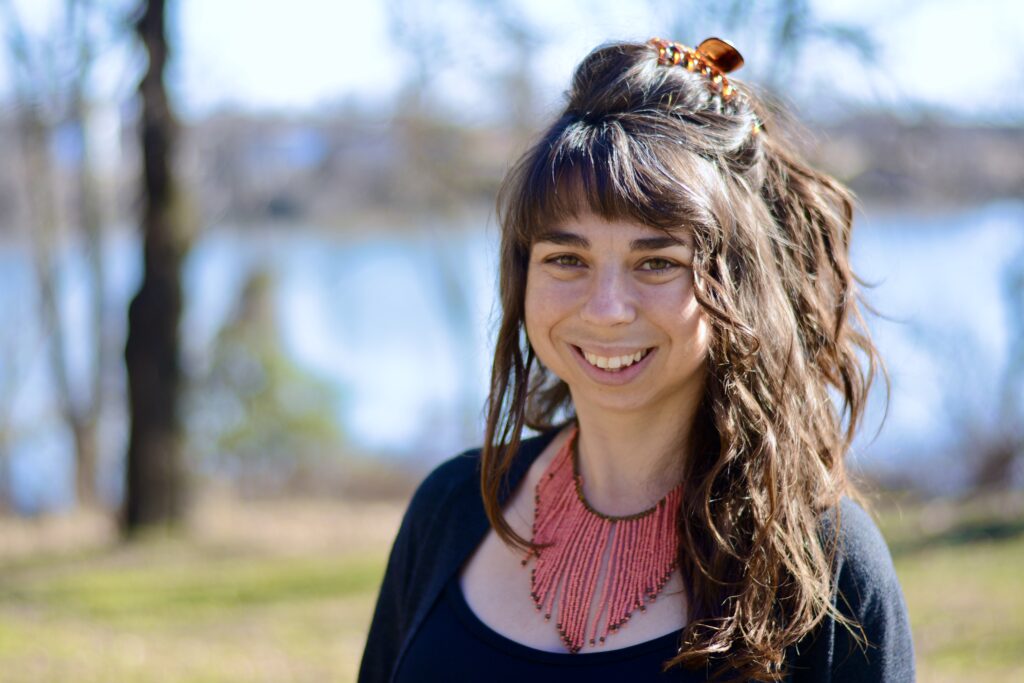 Faryn Borella was raised on unceded Abenaki land, also known as Vermont. Growing up in a small-town synagogue that was Reconstructionist in spirit, Faryn discovered a love for leading prayer early in life, the seeds of which are now growing into a beautiful rabbinate.
Faryn attended Occidental College in Los Angeles, intending to study diplomacy and world affairs as a means of addressing the injustice in Israel-Palestine, yet found herself creating home in the Department of Religious Studies. She still found her way to Israel-Palestine during and after college, working as an activist, journalist and photojournalist. In the end, it was her activism that led her to Jewish spiritual practice.
Prior to rabbinical school, Faryn studied at Starr King School for the Ministry, earning a Master of Arts in Religious Leadership for Social Change, for which her capstone project was the curation of an eight-day multimedia art exhibit exploring the liberatory potential of Jewish Diaspora, replete with performance and ritual each night. During this time, Faryn also worked as a multigenerational Jewish and multireligious educator, serving students ages 2 to 82 on farms, in Redwood forests, synagogues and theological seminaries.
Faryn came to rabbinical school seeking the roots out of which her creative approaches to Judaism could ground. Throughout school, Faryn had the great privilege of serving college students through West Chester University Hillel; congregants at Oseh Shalom Synagogue; youth as the education director at Congregation Beth Israel of Media; residents as the interim director of religious services at Lions Gate Continuing Care Retirement Community; and many patients at St. Mary and Lankenau Medical Centers. She has taught graduate courses on both Jewish Liberation Theology and Decolonizing Holy Land Pilgrimage.
Faryn is eternally grateful for all those who have held and shaped her throughout this journey: her family of origin; her community of fellow crips* from Camp Dartmouth-Hitchcock; the Bay Area Jewish community that formed and blew life into her; all of her teachers and mentors, both formal and informal; and her cohort at RRC, to whom she owes the world.
A blessing that carried me to this moment:
"Hashem as the shadow always at my right hand (Psalm 121). For into Their hand I place my spirit, when I sleep and when I wake."
("Adon Olam")
A blessing I offer as I journey forward:
"May your sorrow be turned to dance. May you grieve through and into your joy. So that your whole being may sing songs to Yah endlessly."
(Psalm 30)