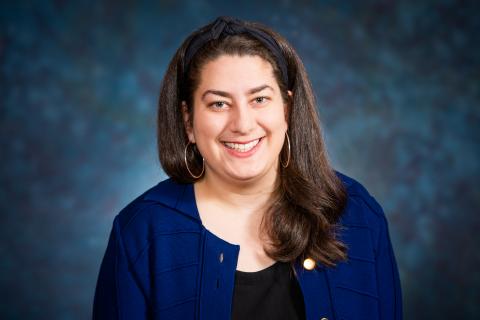 Sarah Brammer-Shlay grew up in Minneapolis, a city that cultivated her love for Judaism, social justice and music. Sarah earned her Bachelor's degree at the University of Minnesota then moved to Washington, D.C., where she worked as a community organizer and in the labor movement.
Alongside her rabbinic studies, Sarah completed a master's degree in Nonprofit Management from Gratz College and held a wide variety of rabbinic internships, including at Or Hadash, SAJ Synagogue, the American Federation of Teachers, Einstein Hospital, Mishkan Shalom and Spring Mill Pointe Senior Center.
After noticing a lack of communal space in the Jewish community to discuss one's relationship with God/divinity, Sarah created the God Cafe Project. She received the Alice Stein Prize in Contemporary Jewish Civilization for the God Cafe Project in 2020.
Sarah's passion for community organizing, specifically for fighting for freedom and dignity in Israel-Palestine, has been significant in her growth as a Jewish leader. Sarah was a co-founder of IfNotNow. While studying in Jerusalem, she served as a movement chaplain for activists with the Center for Jewish Nonviolence.
At the core of Sarah's rabbinate is the desire to support people to get out of isolation and into connection, whether it be by exploring their relationship to the Divine, building political community, or gathering in times of communal need. Sarah is deeply grateful for her teachers at RRC for teaching her to center love for the Jewish people in her rabbinate.
Sarah would not have reached this moment without the support of her family and friends. She is profoundly thankful to her mother, Florence, for teaching her that freedom is something to fight for; for her father, David, for pointing out the rich learning moment in every situation; and for her sisters, Rebecca and Rachel, who have been a rock and light for her throughout her entire life. Sarah is deeply appreciative of her friends all over the world – friends she has known for decades, partners in the struggle for freedom and all of the people who make her laugh.
---
ואחרי ככלות הכל לבדו ימלוך נורא והוא היה והוא הוה והוא יהיה בתפארה
And after everything is gone, yet One alone, awesome, will reign. God was, and is, and will remain, in splendid balance.
Adon Olam, translation from Kol Haneshamah
 
אם אין אני לי מי לי. וכשאני לעצמי מה אני. ואם לא עכשיו אימתי
If I am not for myself, who will be for me? But if I am only for myself, what am I? And if not now, when?
Pirkei Avot 1:14
I grew up in the shoes they told me I could fill Shoes that were not made for running up that hill And I need to run up that hill I need to run up that hill, I will, I will, I will, I will, I will. Fetch the bolt cutters, I've been in here too long.
Fiona Apple