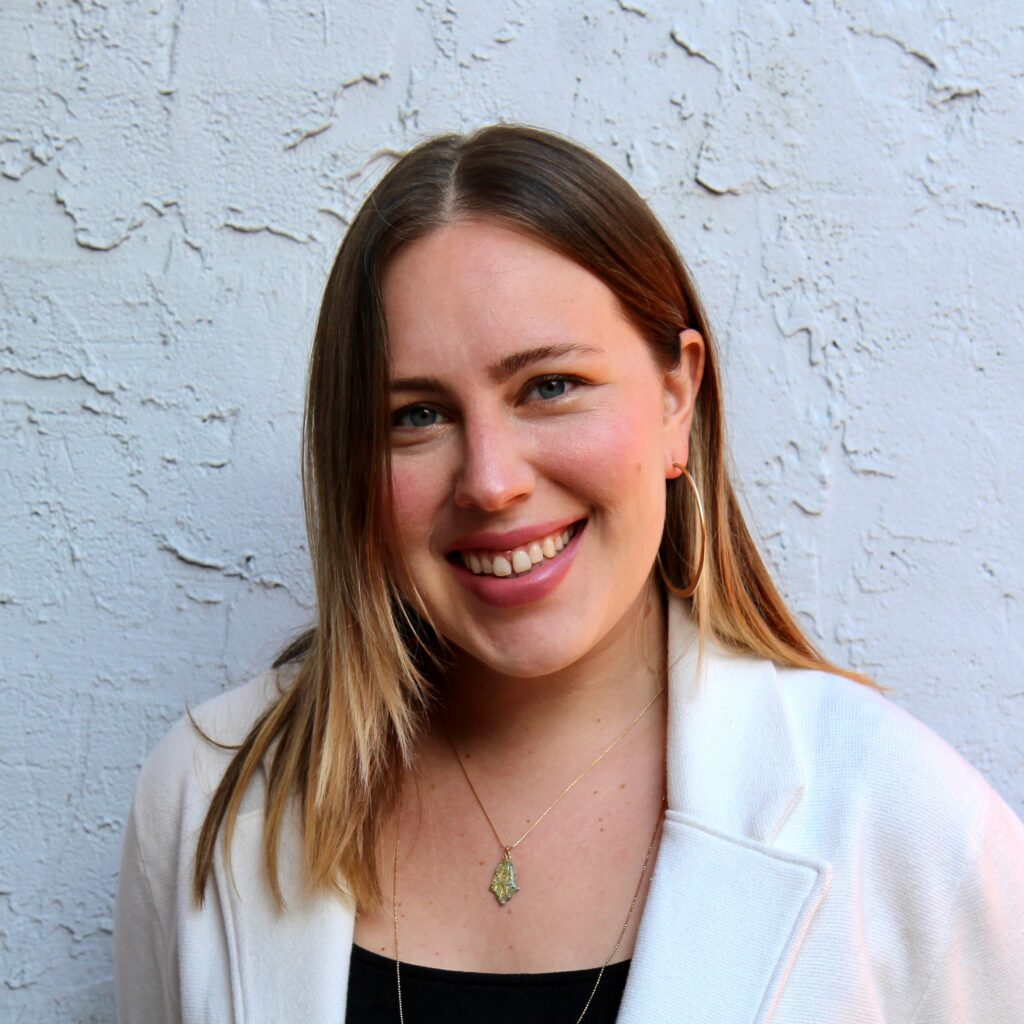 Lizzie Horne Mozes is the proud product of an interfaith family and is thrilled to be joining the burgeoning list of patrilineal Jews serving as rabbis. A native of the Washington, D.C., area, Lizzie's Judaism and politics were deeply influenced by the progressive community she grew up in. Since her teenage years, Lizzie has been weaving her passions for spirituality and social justice together, and she is excited to continue that work as she enters the rabbinate.
During her five years at RRC, Lizzie served as rabbinic intern at The Shalom Center with Rabbi Arthur Waskow; at Bryn Mawr College and Temple University Hillels; and at Beth Israel Congregation of Chester County. She also served as the interim director of religious services at Lions Gate Continuing Care Retirement Community; and as the programs and communications associate at the Reconstructionist Rabbinical Association. Lizzie is honored to have served the RRC student body as president of the Reconstructionist
Student Association and to have received the Ru'akh Akheret Award for contribution to the spiritual well-being of the college community twice. She is also honored to have served as a trip leader on a delegation to Israel-Palestine with the Center for Jewish Nonviolence and as a protest chaplain in Philadelphia's Movement Chaplaincy Network.
Prior to rabbinical school, Lizzie worked in a variety of contexts that informed her vision for a feminist, antiracist rabbinate. She served as an American Jewish World Service Fellow in India, working to combat domestic and sexual violence; as director of enrichment at a school in the New York City public-school system; and as project manager of Stardust Arts, a nonprofit that sits at the intersection of art and social justice. She graduated from the University of Maryland in 2012 with a B.A. in broadcast journalism and a certificate in African American studies.
Lizzie is thankful for the friends, family members, comrades and mentors who have walked with her to this moment, particularly her siblings, Ricki and Evan, and her parents, Scott and Judith. She is especially grateful for the unending support she has received from her life partner, Eric Mozes, and for the babbles of encouragement from her baby, Shai.
A blessing that carried me to this moment:
"Beauty and splendor before the Divine, strength and majesty in the divine sanctuary."
(Psalm 96)
A blessing I offer as I journey forward:
"Trust in what's coming, trust in your knowing, it's deeper and wider and holy."
("Breathe" by Batya Levine)