Originally published in the Balitimore Jewish News on June 9, 2021
By Jesse Berman; Photo: Jordan Cassway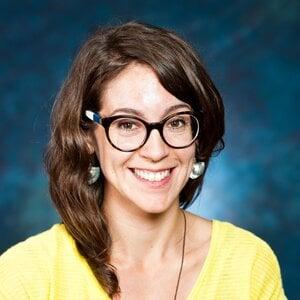 Rabbi Mikey Hess Webber has served as Columbia Jewish Congregation's rabbinic intern for nearly a year and is now about to become the congregation's new rabbi and spiritual leader, but she has yet to meet her new congregation face to face.
"I still haven't met anyone in person," Hess Webber said in an email. "I don't know how tall anyone is! There are a lot of surprises ahead and a lot of important learning and meeting to do!"
Hess Webber will officially become CJC's rabbi on July 1, following the June 30 departure of Rabbi Sonya Starr.
Currently a resident of Baltimore's Hampden neighborhood, Hess Webber, 35, grew up in an interfaith household in Laurel, attending Oseh Shalom, a Reconstructionist congregation.
Hess Webber studied archaeology and art history at Hood College in Frederick, graduating in 2007. She began her education at the Reconstructionist Rabbinical College in 2016 and graduated last month.
"My parents were powerful models, for me, of Jewish commitment and also creativity, innovation and exploration," Hess Webber said. "I credit them, big time, with my desire to become a rabbi."
Hess Webber has always felt called to support and accompany others in their journeys, she said.
"I believe deeply in human beings and in our interconnection and interdependence with one another and the world around us," Hess Webber said. "Rabbi is an identity that allows me to live this truth outward into our world."
While Hess Webber has lived in other cities in other countries at different points in her life, Baltimore had a magnetic quality, she said, always drawing her back.
"Being here connects me to [my] ancestors in ways that are grounding and centering," Hess Webber said. "My family came here three generations ago from Germany just before WWII and settled in Druid Hill. Now I live only a few blocks away from the homes where my grandparents were raised.
"It is powerful to walk in their footsteps and to consider their lives as I build mine on the same land," Hess Webber continued.
Hess Webber became a rabbinic intern at CJC during the fall of 2020. As she had grown up just down the road, it felt like a homecoming to her.
While it was a "wild time" to be a part of CJC during the pandemic and the transition to the online space, Hess Webber said, she nonetheless considered it a gift.
"Even in virtual form, CJC has been incredibly open-hearted, welcoming and supportive," Hess Webber said. "It felt so natural and easy to become part of the team."
CJC's search for a full-time rabbi to replace Starr led to the board's recommendation to offer the position to Hess Webber, said Eileen Singleton, co-president of CJC. At a congregational meeting, the general membership voted near unanimously in favor of the board's recommendation.
"We've never met in person, but she really, even through the screen, comes across as warm and knowledgeable, and she has a really nice, lovely singing voice," Singleton said of Hess Webber. "Overall, she's been a wonderful addition to our congregation."
Looking to the future, Hess Webber hopes to use the warmth of CJC's congregation to grow the community, she said, and looks forward to welcoming fresh faces to CJCS, the congregation's school program.
"I want to create a Jewish home where people are able to come as they are and feel seen and valued while simultaneously empowered to explore, grapple and grow," Hess Webber said. "I want to offer people a space to live out Jewish values in our modern world and help folks (re)connect/continue to connect with their Jewish identities."