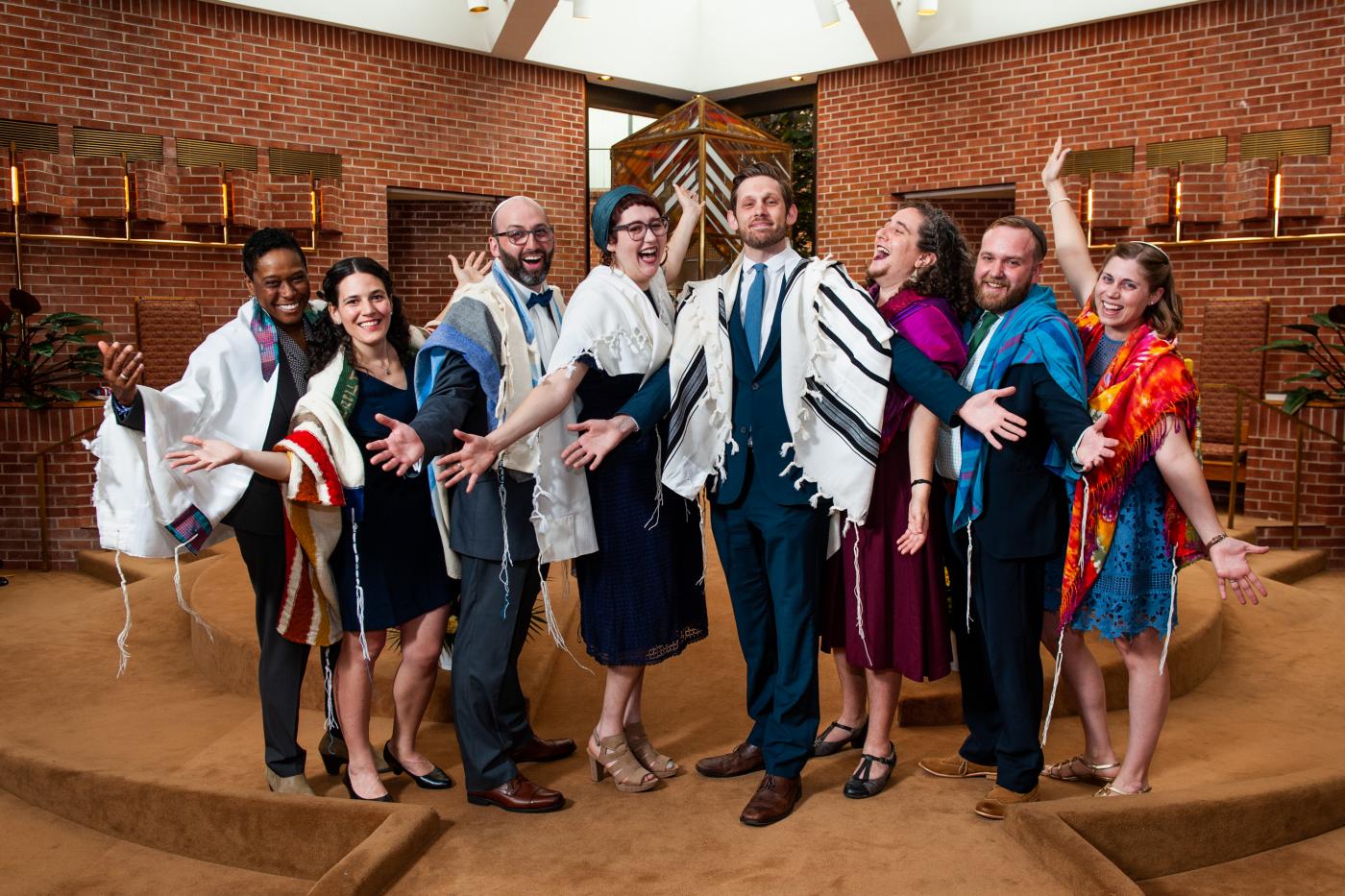 RRC Graduation 2018 (Rabbi Sandra Lawson, left)

Originally published on June 20, 2018 at http://jewishexponent.com/2018/06/20/rabbi-meets-jews-where-they-are-today/ (Author: Marissa Stern)
Sandra Lawson is many things.
She is Jewish. She is black. She is a lesbian. She is a vegan.
And now, she's a rabbi.
But don't expect her say that any of these qualities is more important or anything than the other, even if it has a title.
"I've had people over the years — and not just Jews, but other people — [ask] well, which identity is more important to you? And I'm like it doesn't work like that," she said. "It doesn't. There's no hierarchy, I can't separate them out."
She joined the latest cohort of rabbis who graduated from the Reconstructionist Rabbinical College last weekend, adding another step in her Jewish journey, which began in the early 2000s in Atlanta.
Rabbi Joshua Lesser of Reconstructionist Congregation Bet Haverim had hired Lawson as his personal trainer, seeking to compete as a bodybuilder. Instead, it led to Lawson flexing new muscles.
At one point, he invited her to his synagogue — and she fell in love with the community.
"As I learned more about Judaism, I learned more about being in the community and what does that mean, and I liked them and I wanted to be a part of it," Lawson reflected.
"I knew that to be a part of that community, full membership meant converting," she added, which she did in 2004.
She held leadership positions at the congregation before moving to the Philadelphia area for school, from board member to vice president, and began getting invited to interfaith gatherings with black and queer clergy where she often found herself one of the only Jews in the room.
These experiences led her to go to rabbinical school.
"At that time, Jews in Atlanta weren't that interested in social justice," she said. "Now, it's like everybody is."
Getting the Jewish community involved in LGBTQ causes or social issues like public housing or interfaith work was difficult initially, she noted.
"I realized if I wanted to really make significant change, or at least be part of these conversations, then that meant going to rabbinical school," she said.
Of course, things have since changed. Many synagogues today have social justice-oriented affinity groups and support different societal causes.
"It's kind of funny because now social justice is cool. I don't even know that that's what we called it; it was like, doing the right thing," she said. "Now, you see Jews protesting all the time and that wasn't what happened in the South — I can't speak for up here."
She hopes it signifies a change in the Jewish community, which she noticed has seemingly become more outspoken, particularly in progressive areas like Philadelphia.
As a rabbi, she hopes to help Judaism continue on its current path, even if — or rather, especially because — it is changing, including in the shift in what Jews today look like.
Lawson is up front about who she is. Her graduation bio explains she is a St. Louis native who grew up in a military family and graduated from Saint Leo University and got a master's from Clark Atlanta University.
She's served in the Army, owned a personal training business and worked as an investigative researcher for the Anti-Defamation League.
She thanked a list of mentors, family and friends for support during her journey and gave a shoutout to her wife, Susan.
Past articles written about her include the pieces of her identity right in the headlines, like a bluntly titled 2016 JTA profile "Sandra Lawson, black lesbian vegan rabbinical student, hopes to redefine where Judaism happens."
"I have spent a good chunk of my time putting myself out there, so that if people Googled me or started Googling 'Jews' or 'progressive Jews' or whatever, they would see other faces," she said, "so that I wouldn't constantly be doing this dance about 'How are you Jewish?' — whatever it is that people say to me, all that is sort of out there."
As a rabbi, she hopes to join that shift and bring Judaism to people in a way that suits their needs in 2018. She's already been doing that; she led services inside of vegan and raw food cafe Arnold's Way through a grant she received in school.  
She hopes others — particularly older generations — can believe that the "future of Judaism is in great hands."
"Judaism is changing, and it wouldn't be the first time it's changed, but it's changing, and a decade from now, 20 years from now, the next generation, it might be completely unrecognizable to how we see it today and that's kind of scary for people," she said.
"It used to be if you built a synagogue, people came. If you built a JCC, people came," she added. "I feel like it's our job as rabbis to meet people where they are. … And don't get me wrong, I'm not trying to get rid of synagogues. Synagogues are needed. But we're just going to have sort of reinvent how we do things."
She will soon join the next generation as an associate chaplain at Elon University in North Carolina. She will work with students and faculty as they navigate their own Jewish identities.
While she's enjoyed living in Roxborough, she's ready to return to her roots, family and consistently warm weather.
She was excited to share her graduation with her parents, who instilled in her from an early age the idea that she could do anything and watched her lead services for the first time over graduation weekend.
"If you set your mind to it, you can do anything," she said. "I came to Judaism from no understanding of Judaism and not a lot of understanding of religion because I wasn't raised Christian or anything, and I just decided I was going to do this."