by Mike Sherry
Originally published in The Kansas City Jewish Chronicle on Dec. 3, 2020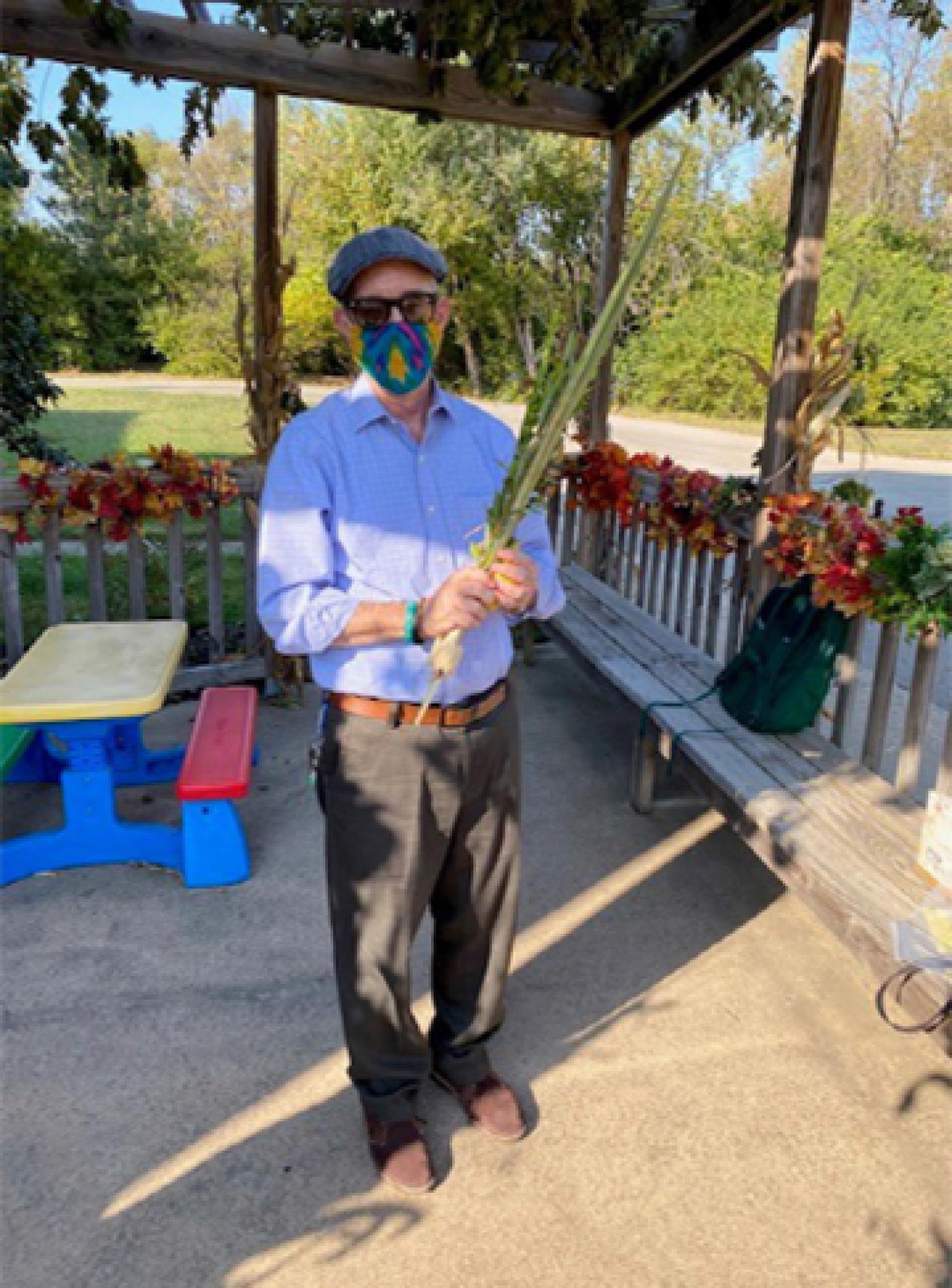 Rabbi Moti Rieber invited members of Temple Beth Sholom in Topeka to join him for a pandemic-safe Sukkot.

As most congregations can attest, it was hard enough preparing a virtual experience during the High Holidays this year. But try doing it with a temporary spiritual leader who has been on the job for only a matter of weeks.
That was exactly the situation at Temple Beth Sholom in Topeka. Congregation president, Alan Parker, said the experience turned out fantastically thanks in large part to interim rabbi, Moti Rieber, who lives and worships in Overland Park. 
With the synagogue in such flux, Beth Sholom figured it would probably be only able to hold two or three of the five High Holiday services themselves. 
"And then we engaged Moti. From the get-go he said, 'I really would like us to do all the services,'" Parker said. He laughed. "We are not going to say no to that. That is great."
With Rieber's vision, along with some technological wizardry, the congregation pulled that off. 
"Coming in with scratching our heads, wondering what to do, and ending up in a fairly short period of time with services that everybody enjoyed," Parker said. "I credit quite a bit of that to Moti."
Making the task even more daunting for Rieber was that he was replacing Rabbi Debbie Stiel, who had led the congregation for 14 years, creating bonds within the congregation and making a mark in Topeka's wider religious community. 
Stiel left in June to become associate rabbi at Temple Solel in Phoenix. Rieber started as the interim rabbi on Aug. 1.
He and his wife, Suzy, are members of Congregation Beth Shalom and The Temple, Congregation B'nai Jehudah, where Suzy is a teacher.
Temple Beth Sholom is a Reform congregation with about 95 families, and it's part of a Jewish community that dates back to the earliest days of the city in the mid-19th century. Two congregations merged to build Temple Beth Sholom in 1920.
In addition to filling some big shoes with Stiel's departure, Rieber also needed to knock off a little rust. He had not been a pulpit rabbi since leaving a part-time role in Lawrence five years ago.
Rieber left that position to focus on building Kansas Interfaith Action, the organization he leads as executive director. The statewide group lobbies for social, economic, and climate justice issues, and that means Rieber already spends a lot of his time in Topeka.
Stiel contacted Rieber to see if he would be interested in the interim role, and the process moved forward in the summer.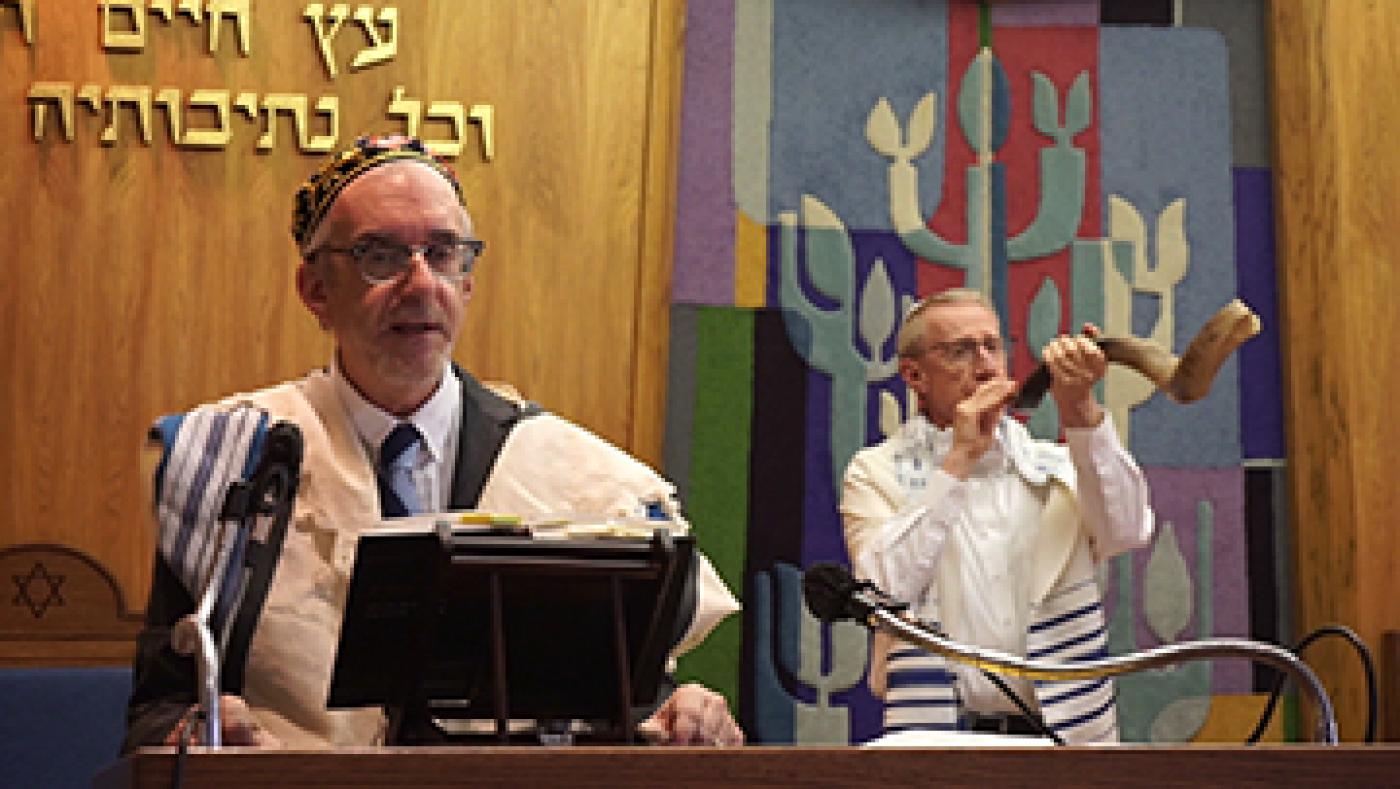 Rabbi Moti Rieber leads High Holiday services at Temple Beth Sholom in Topeka.

For Rieber, taking over at Beth Sholom meant finding some of his old resources and getting back into the rhythm of Shabbat services and duties like that. "And obviously it is a lot different experience for me," Rieber said, "because it's the first time in five years I've led High Holiday services, and here we are on Zoom."
In getting over the technological barrier, it helped that Parker is a professional videographer. Even getting started, he said, meant smoothing over some ruffled feathers among congregants who weren't on board with pre-recording some of the services.
Then came the filming, which they staggered at the temple during two or three days of filming. Rieber had charted out roles. In the end, they did about 45 separate videos to work into the live portions of the services. They prerecorded as much as they could, including blowing the shofar and the aliyahs.
The congregants had not been in the sanctuary since March, and Rieber wanted to ensure they could experience as much of that as possible. 
Parker said the congregation will ramp up it search for a new full-time rabbi in the coming weeks. The search and interview process would likely stretch into the summer as Rieber's one-year contract comes to a close.
The idea of an interim rabbinate had never come up before to Rieber. But he is enjoying his experience at Beth Sholom.
The toughest part, of course, has been getting to know the families without any face-to-face contact beyond Zoom. Some things, like schmoozing at the oneg, just can't happen.
But, Rieber did invite folks to come meet him in the sukkah for Sukkot with all the proper precautions for the pandemic. He had a lulav and etrog.
Even though he is only temporarily filling in at the temple, Rieber does not take a part-time approach to the job. He holds office hours and goes into the office once a week. "As long as I am here," he said, "I am their rabbi."
As a social activist, Rieber said he does not impose those views on the congregation. But, Parker said, the congregation embraces the progressivism that marked Stiel's tenure and will likely select someone similar as the next full-time rabbi.
"We know its important on many different levels to be engaged with the community, especially in a city where, as far as Judaism is concerned, we are it," he said. "Luckily, through the efforts of our social action committee, and a lot of efforts by Rabbi Stiel, we have made tremendous inroads, and have become very active in the interfaith community – and it's important."