By Karie Angell Luc; Photo credit: Karie Angell Luc/Pioneer Press
Originally published in the Chicago Tribune on July 30, 2019.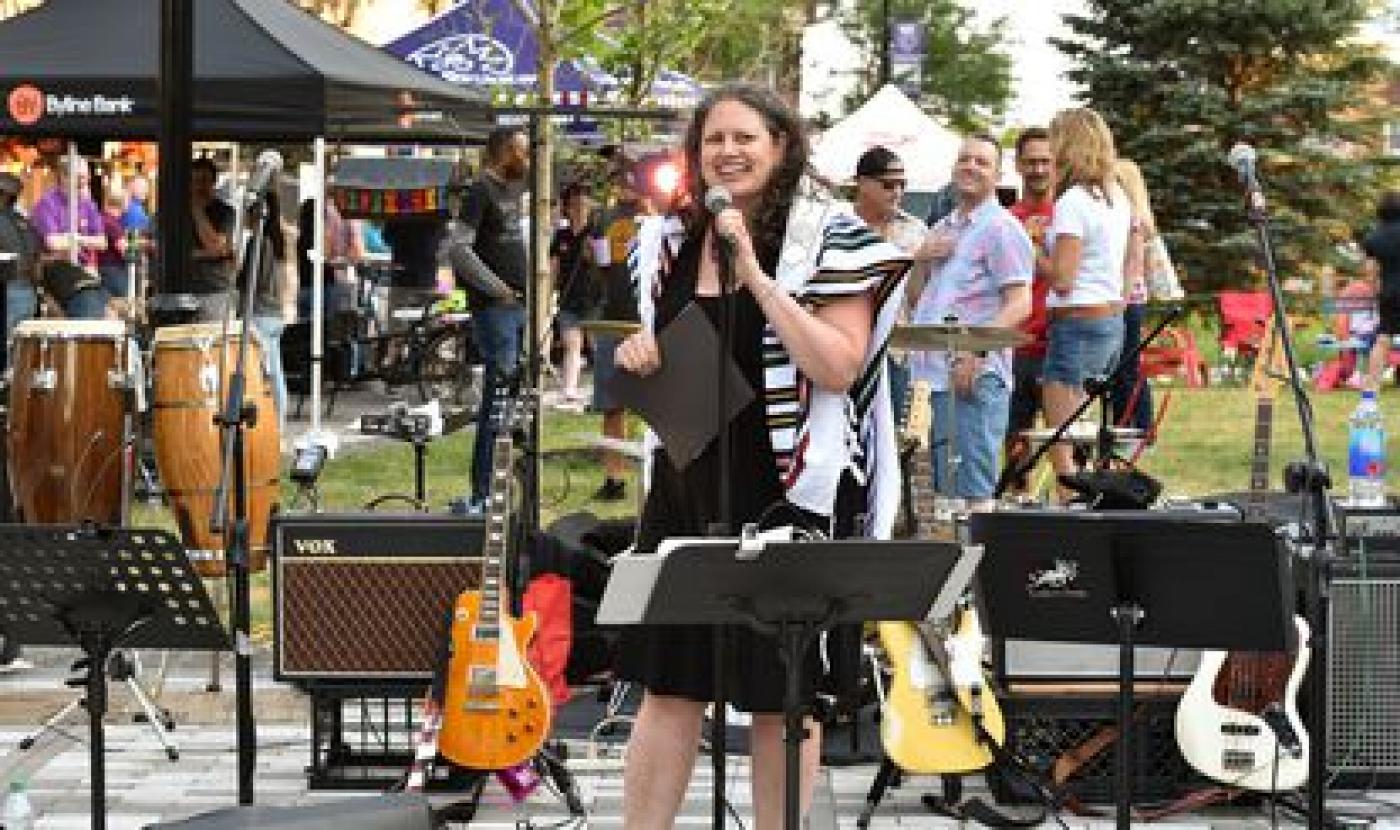 Rabbi Rachel Weiss ('09) of Evanston's Jewish Reconstructionist Congregation addresses the audience at Pride Fest in Evanston on July 25, 2019.

The city of Evanston's inaugural Pride Fest July 25 filled Fountain Square Plaza downtown.
The fest took place in coordination with the Thursday Night Live! event series hosted by Downtown Evanston and admission was free and open to all ages.
"I'm always proud to be an Evanstonian," said Evanston Mayor Steve Hagerty. "Even more so tonight as we demonstrate what an inclusive community we are."
In his address, Hagerty remarked that Evanston is a diverse community that could be used as a larger example.
"We need more openness and inclusivity in this country, and we're demonstrating it every day here in Evanston," Hagerty said.
Chad Davidson attended the event and said he and his family have lived in Evanston for more than 20 years.
"My son goes to Evanston Township High School and it's a great place to raise a family," Davidson said. "The schools are great, the community is great and the neighbors are awesome."
Keynote speakers included Rabbi Rachel Weiss of Evanston's Jewish Reconstructionist Congregation. Weiss was raised in Evanston and said she is the town's first lesbian rabbi.
"I came back after college and my wife and I got married here in Evanston at the synagogue where I am now rabbi," Weiss said.
Her wife, Julia Tauber, and their children Norah Tauber-Weiss, 5, and Hannah Tauber-Weiss, 10, were among the audience members as Weiss addressed the crowd.
"We're both from this area, we've been away for a long time," Julia Tauber said, who added she was "very, very," proud of Weiss and her accomplishments.
Tauber said she was happy that Evanston was hosting the event.
"I wish that it was in June rather than July," Tauber said. "Maybe next year."