Originally posted in the Cleveland Jewish News on July 8, 2021
By Jane Kaufman; Photo: Rachel Forth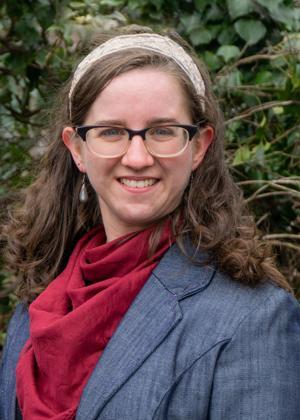 For Cleveland native Rabbi Rachel Davidson, the road to chaplaincy is leading right back to Cleveland as a chaplain resident at the Louis Stokes Cleveland VA Medical Center near University Circle.
"When I had the calling to the rabbinate, I felt specifically really pulled to becoming a health care chaplain," Davidson told the Cleveland Jewish News June 21.
"To become a chaplain, you need training after seminary, so I'm starting that next level of training."
In that clinical pastoral education, one third of her time will be spent in education hours and two-thirds will be in patient care. After she's done that, there will be a certification process that will require additional writing and additional hours of patient care.
"They call it an action, reflection, action model, where you … go see patients, try things out, go back to your supervision group, figure out what can be improved upon and go back and try it some more," said Davidson, 27.
At the VA, Davidson said she hopes to learn as much as she can.
"My ultimate goals are to move into palliative care and hospice chaplaincy," Davidson said. "I really like being with people in that moment of transition and accompanying people as they face the transition between life and death."
During her rabbinic training, she completed one of four required units of clinical pastoral education while working at two continuing care retirement communities: Lions Gate in Voorhees, N.J., and Monroe Village in Monroe, N.J.
Davidson said she is pulled to Cleveland by both family ties and friendships – and that her career choice is reflective of many influences of her childhood.
She is the daughter of Adina and Mark Davidson and the granddaughter of the late Sam and Anna Kelman. Anna Kelman is a Holocaust survivor and lives in Cleveland Heights. Davidson's immediate family is rooted in Judaism, with her father being a Jewish educator and her mother a Jungian therapist.
She spent summers at the overnight Reconstructionist camp in South Sterling, Pa.
Raised at two of Greater Cleveland's smaller liberal synagogues, Beth El-the Heights Synagogue in Cleveland Heights and Kol HaLev, now in Pepper Pike, Davidson said both experiences resonated for her in different ways.
"I have very lovely memories of both," she told the CJN. "My preferred davening style is more in line with Beth El. My friends all went to Kol HaLev. … So, I think my primary community was at Kol HaLev."
At Camp Havaya, she enjoyed learning about Reconstructionist Judaism's history, its 20th century founder Mordecai Kaplan, and the perspectives he espoused. Counselors dressed up as historical characters and imbued campers with one of Reconstructionism's central tenets: that Judaism encompasses a religion, a civilization and a people.
It was as a teenager at Camp Havaya where she came out as bisexual.
And it was there at 18, having finished her freshman year of college at Oberlin College, Davidson realized she wanted to pursue the rabbinate.
She was caring for 9-year-olds, she said, and suddenly realized, "caring for others was not just important and good, but also sacred and holy and a way of channeling the divine."
She said the image of G-d carrying humans on eagle's wings came alive for her in that moment.
Having accompanied her father on Jewish nature retreats, she said, she often finds herself channeling him when leading her own programs.
At Oberlin, she took part in Shabbat services at Hillel and became a resident assistant at the college's Hebrew Heritage House, an experience she called meaningful. The role allowed her to develop and implement Jewish programming while in college.
She was also active with the Oberlin Student Cooperative Association, which allowed her to test her leadership skills. She was also president of the Queers and Allies of Faith, which brought together Oberlin's lesbian, gay, bisexual and transgender community.
She studied at the Conservative Yeshiva in Jerusalem one summer while in college as well.
"Prayer is a really important part of my spirituality," she said.
At age 15, she met Raisa Cabrera at Shaker Heights High School. The two began dating at that time and became engaged in spring 2016. They decided to marry shortly after President Donald Trump was elected out of fear their right to marry might be compromised under his administration, she said.
They held a small civil ceremony in December 2016 with a religious ceremony officiated by Kol HaLev's spiritual leader, Rabbi Steve Segar, at Shaker Lakes Nature Center in Shaker Heights in June 2017. A party followed later at Edgewater Park on Cleveland's west side.
In 2018, Davidson was president of the Reconstructionist Rabbinical Student Association, and she was ordained in May 2021 from the Reconstructionist Rabbinical College in Wyncote, Pa.
She spent her final year as rabbinic adviser to the Hillel at Bryn Mawr College in Bryn Mawr, Pa., and previously served as a rabbinic intern at West Chester University of Pennsylvania in West Chester, Pa.
She lives in the Mount Airy neighborhood of Philadelphia, and she and Cabrera plan to relocate to Shaker Heights later this summer.
She said she intends to rejoin her childhood synagogues when she arrives.
"Just like my parents were members of multiple synagogues, I think that's my future," she said.