Congratulations Rabbi Sandra Lawson ('18) for being named a LGBTQ Jewish Hero by Keshet.
Keshet is a national organization headquartered in Boston with offices in the Bay Area, Chicago and New York City. According to Keshet's website, "We are the only organization in the U.S. that works for LGBTQ equality in all facets of Jewish life — synagogues, Hebrew schools, day schools, youth groups, summer camps, social-service organizations and other communal agencies. We have developed the leadership of LGBTQ Jewish teens, trained Jewish educators to prevent anti-LGBTQ bullying and celebrate LGBTQ Jewish identity, and mobilized Jewish communities to protect marriage equality and transgender rights."
From Keshet's tribute: "Rabbi Sandra is a veteran, a vegan, a weightlifter, and one of the first queer women rabbis of color. As Associate Chaplain for Jewish Life at Elon University, Sandra explores ways to build diverse and welcoming communities. 'We are raising a generation of Jews to look past whomever their grandfathers' rabbis were. One of the things I want the larger Jewish community to understand is that rabbis today are a diverse group. Many are people of color. Many are not straight. Many might be married to non-Jews. My difference, my diversity, is helping people become aware of that.'" 
Keshet's LGBTQ Jewish Heroes poster series was created to celebrate LGBTQ Jews who have transformed the world through their words and lives. A poster of Rabbi Lawson is below. Click here to order a copy and support Keshet.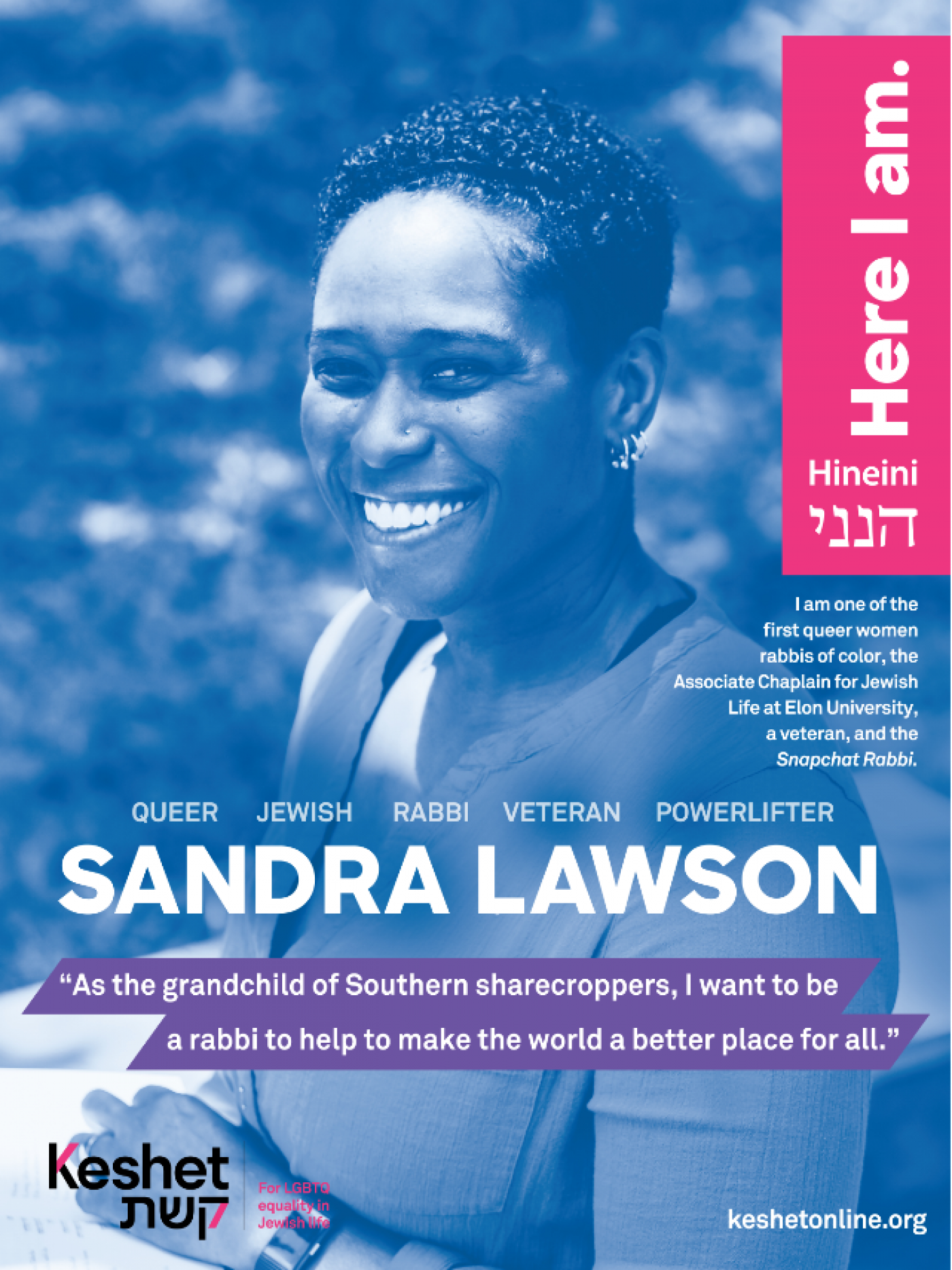 Rabbi Sandra Lawson – Keshet Poster