by Madeleine Maccar; Photograph: Madeleine Maccar
Originally published by The Cinnaminson Sun on July 28, 2020
Perice uses his own experiences to help others as synagogue's leader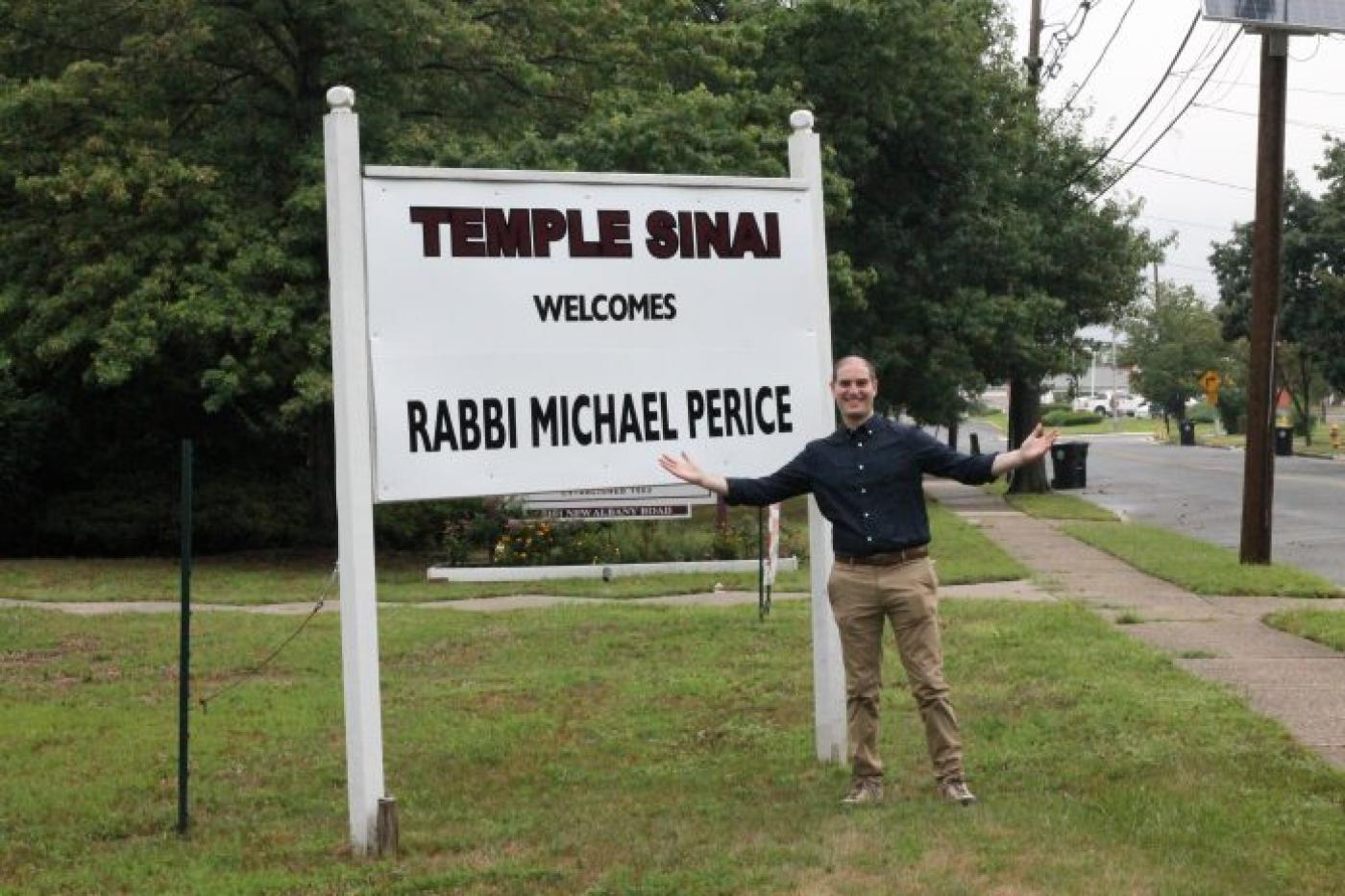 Rabbi Michael Perice stands with the sign his congregation at Temple Sinai installed to welcome him. Perice, the synagogue's newest rabbi, started his new position July 1.

Rabbi Michael Perice once thought his lingering crisis of faith made taking the rabbinical route as unlikely as a career in the NFL.
Instead, he's found that being plagued with that very human doubt has only made him more accessible to the congregants at Temple Sinai since he became the synagogue's  rabbi July 1. 
"It has helped 100 percent," Perice affirmed. "People bring a lot of insecurities and baggage to a conversation with a faith leader: They wonder, 'Do I know enough? Am I going to disappoint this person, Am I a bad Jew?' Once people hear my story, they let go of all of that. They find it very relatable and it helps me do my job more effectively when they know I'm not judging them."
What's more, Perice credits the time he spent questioning, doubting and ultimately dismissing Judaism as a crucially formative experience. He said his journey to becoming a faith leader starts with that youthful disenchantment with religion.
"I think my story of how I decided to become a rabbi really starts that long ago," Perice added. 
Perice grew up in Cherry Hill. With a Jewish mother and a father who converted from Catholicism, he was raised in a "reform Jewish setting." In 1994, when Perice was 10 or 11, his faith was shaken by tragic turmoil when his own rabbi — Fred Neulander — was convicted of hiring two men to murder his wife, Carol.
"For me, it was so confusing as a child," Perice recalled. "The first thing I do when tragedy strikes is talk to my students, but no one ever did that with us. I was left feeling rather angry, thinking that rabbis were big phonies."
He went through with his bar mitzvah at 13 years old, but soon "made a conscious decision not to go to synagogue anymore after that." For the next decade, Perice lived an inactive Jewish life, only participating in the High Holy Days of Rosh Hashanah and Yom Kippur to appease his grandmother.
Perice went off to Temple University to earn a bachelor's degree in political science and history and worked in politics, until realizing it wasn't the path meant for him, either. In his mid-20s, he turned to his family's business, the Philadelphia-area Jewish funeral home, Goldsteins' Rosenberg's Raphael-Sacks, to rediscover what he was looking for.
"It was a blessing in disguise," Perice recounted. "Through that work, I got to be reintroduced to Jewish clergy, to rabbis, who I hadn't had a lot of experience with since my childhood. It helped me tap into this anger I was holding onto, and I realized that it was time to just let it go." 
As a decade's worth of anger began melting away, so too did Perice's cynicism about religion and rabbis. He soon found himself in the midst of a religious renaissance. 
"I started seeing the amazing work that rabbis do for families pastorally, and I was just so impressed," the rabbi said.
"From there, I started rebuilding my Jewish life. I went on a whole spiritual journey to reconnect with my Judaism and my faith."
He started out small, reading books and going to services more often. But no matter how much his newly excavated faith grew, he said, becoming a rabbi was still the farthest reality in his mind. 
And then around 2011, an "impactful experience" changed everything. A blizzard tore through the region, canceling most of the funerals his family's business had scheduled,   except one. The deceased's elderly sister couldn't get to her brother's grave site, since the piled-high snow made navigating her wheelchair there impossible. 
"She had to sit in the car for her own brother's funeral," Perice remembered, calling the unfortunate reality "just so heartbreaking." He was so upset that he walked to her car, introduced himself as an employee of the funeral home and sat with her. When he inquired about what kind of person her brother was, "it was like she was waiting for this moment." 
As the woman relayed story after story about the brother she was laying to rest —  including how they fled across Europe together to escape the Nazis — a dawning realization struck Perice. 
"For the first time in my life, I had this epiphany," he recalled. "I let her speak. I'd never just listened in a conversation. It was so powerful." 
They prayed together and parted ways, but Perice was already on a crash course with his future. 
"It was like, 'What did I just do and how do I do keep doing this?'" he said. "A few weeks later, someone told me to look into the rabbinical college."
Perice insisted that becoming a rabbi was not his fate but looked into it anyway. Six years ago, he was accepted to rabbinical school and hasn't looked back since. 
Most recently, a job he had just accepted prior to the pandemic fell through. A rabbinical  college colleague put Perice in touch with "this congregation in Cinnaminson." And while he was unsure how he felt about being a synagogue rabbi, he applied for the opening at Temple Sinai. 
"From the moment I started talking to them, it felt like — there's a word we use, 'beshert.' It's a Yiddish word that means destiny," Perice explained. "It felt like fate. From the very first interview, they just felt like my kind of people. And I accepted this job because of the people."
And while starting a new job in the midst of a pandemic isn't exactly ideal, Perice feels  it has actually "presented some interesting blessings."
"It's been a whirlwind; it's been intense, because there is so much to do, so many people to meet, so much to accomplish," he said. "I can't meet many of my congregants in person, but now that we're connecting virtually, I get to meet much more of them online. We maybe get between 15 or 20 people for a Friday night service — we've been getting 50 or 60. I'm having more contact with people, probably because of COVID."
Being a new rabbi does require some trust from congregants he's still getting to know, but Perice finds many are eager to let him in right away.
"People are holding onto a lot of different conflicting feelings and they want to get them out, and they've just been waiting for someone like me to come and help them," said the rabbi, who leads with the core belief that helping others is always a blessing and never a burden. 
And the lessons he learned from both his own family and its funeral home helped Perice in ways he said he could not have prepared for.
"My mother was a funeral director and a grief counselor, and watching her with families taught me so much just from the way she talked with people," he noted. "From her, I learned how to be a pastoral presence." 
And while Perice is still learning "new guy" things like where Temple Sinai keeps its Torah scrolls and how to unlock tricky closet doors, he knows what it takes to be a good rabbi, and he has a clear vision of how he wants to serve not only his congregation but also the surrounding community.
"This community is just full of potential," he said. "I think we're at a pivotal moment, so one of the things I want to do is let the people we have know they're appreciated and that we care about them. And then I want to solidify our partnerships with everybody in Cinnaminson and the surrounding towns. I think for all of us to survive, we have to be able to depend on each other."