Originally published in the Washtenaw Jewish News, February 2021 Edition
By Emily Eisbruch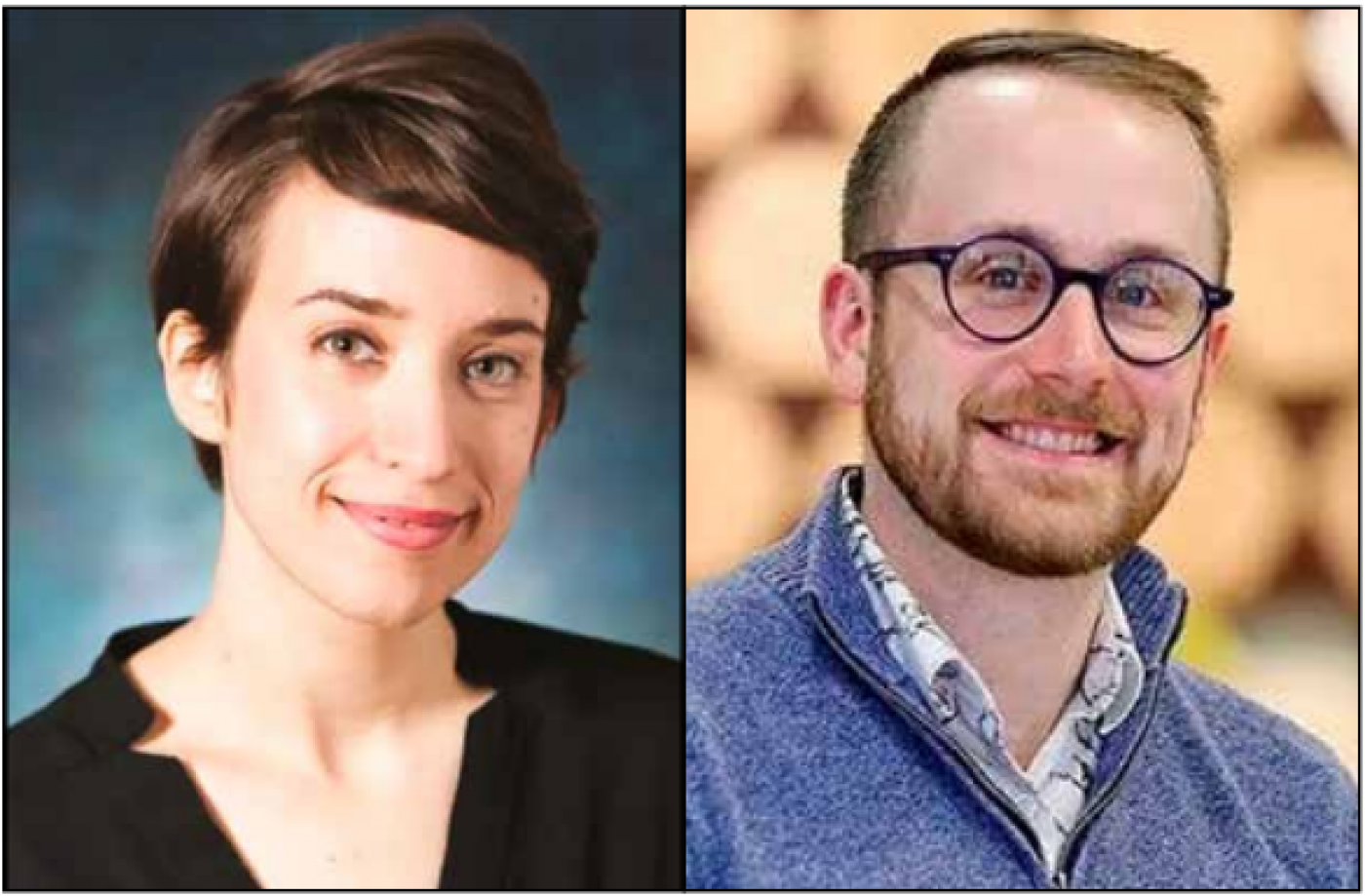 Rabbi Ora Nitkin-Kaner and Rabbi Alex Weissman

The past year, with all its challenges, has seen the flowering of many new online collaborations. One such growing collaboration within the Jewish Reconstructionist community actually began over 10 years ago when future rabbis Ora Nitkin-Kaner and Alex Weissman met and became friends in Philadelphia at the Reconstructionist Rabbinical College's Institute for Prospective Rabbinical Students. They entered RRC the same year (2011), overlapped in many classes, and were housemates for their first two years of rabbinical school.
Little did these two rabbinical students imagine that within a decade they would bring together their Reconstructionist congregations — one located in Ann Arbor and one in Attleboro, Massachusetts — for joint worship services and holiday celebrations on a platform called Zoom.
"The pandemic has shaken up how congregations pray, learn, and create community together, but has also allowed for new forms of connection across long distances," says NitkinKaner, of the Ann Arbor Reconstructionist Congregation. "Rabbi Alex Weissman, leader of Congregation Agudas Achim in Attleboro, and I spoke over the summer of 2020 about the particular challenges and Zoom-based opportunities of this time. We thought that with so many people hungry for more connection and more stimulation, shared services would be a wonderful experiment. Our congregations are natural partners because of similarities in size, demographics, and values."
Rabbi Ora and Rabbi Alex decided on a trial run of a special Simchat Shabbat in October that featured lay leaders from each community sharing their perspectives on the theme of joy. Positive feedback from both congregations led to a second collaboration, this time for a Shabbat Hanukkah with the theme of haganuz, "hidden light." During this service, Rabbi Ora shared Rosemerry Wahtola Trommer's poem, "The Way It Is" and a guided meditation on inner light, while Rabbi Alex enriched the experience with a text study on how or haganuz is connected to Hanukkah.
"It has meant so much to partner with AARC for these holidays," says Rabbi Alex. "The opportunity to meaningfully interact with new people in this moment is a rare gift. Being able to do that with another Reconstructionist congregation in the context of sacred time and practice makes it even more precious. It has brought palpable joy to our community to build new relationships and celebrate together. There are so many losses in this moment, and we likely would never have imagined collaborating with a congregation 800 miles away if it weren't for the challenges we are all facing. As Reconstructionists, we believe that Judaism has changed, and always will change, to respond to the needs of Jewish communities. We are actively participating in this project through this innovative collaboration and couldn't be happier about it."
Plans for additional events with Agudas Achim in the spring are in the works right now: a shared Tu B'Shvat program and another shared Shabbat. The AARC also intends to join again with Reconstructionist Congregation Kehillat Israel in Lansing and its new leader, Rabbi Matthew Kauffman. Past collaborations with Kehillat Israel have required one or the other congregation to drive 70 miles across the state. Thanks to online expertise gained in 2020, the coming months may see some joint activities or programming occurring virtually.
Each Reconstructionist congregation has its own cherished identity and character, and yet, by teaming up for some special occasions, we can expand our vision of community and offer more varied experiences. If you would like to learn more about the Ann Arbor Reconstructionist Congregation, please visit www. aarecon.org or contact Gillian Jackson at aarcgillian@gmail.com or Rabbi Ora Nitkin-Kaner at rabbi@aarecon.org.