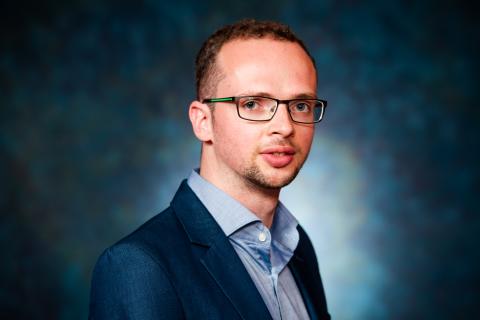 Armin Langer, a rabbinical student in his final year at the Reconstructionist Rabbinical College, has been selected to participate in J Street's Seminary Student Fellowship for the 2021-22 academic year.  
According to J Street, the Fellowship will focus on providing advocacy and leadership skills and learning based on J Street's foundational principles: support for the security and future of the state of Israel; support for the two-state solution as the only way to peacefully resolve the conflict and end the occupation; and the value of vibrant and respectful debate about Israel.  
In addition to studying for the rabbinate, Langer is a Ph.D. candidate in sociology at the Humbolt University of Berlin. Since 2020, he has worked as a student rabbi at Congregation Am Haskalah in the Lehigh Valley, Pa. He has also worked for RRC's Center for Jewish Ethics. Since 2019, he has been a visiting research scholar at Brandeis University's Schusterman Center for Israel Studies. 
To learn more about the fellowship, read J Street's release here: 
https://jstreet.org/press-releases/j-street-announces-2021-2022-seminary-student-fellowship/#.YWc-yRrMI2w